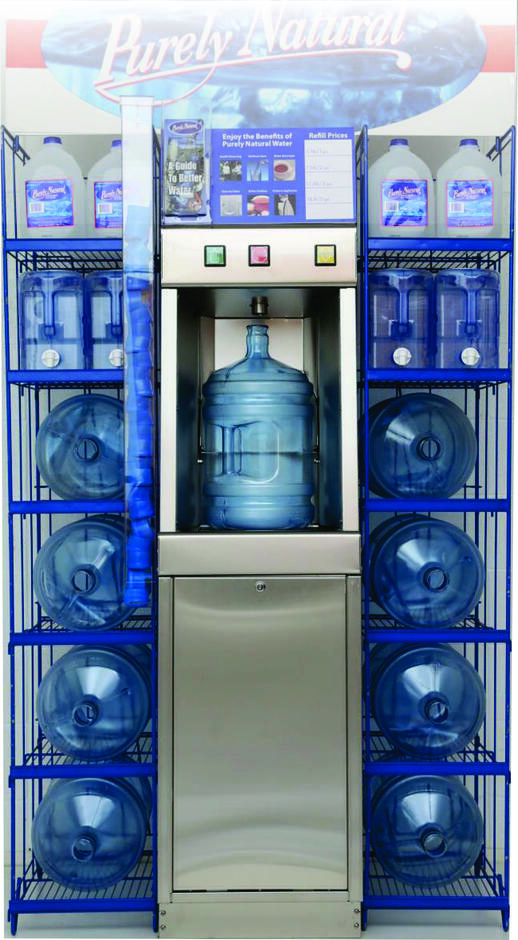 U-Serve Dispenser, Single Semi-Automatic, BFDSA-1
---
Self-Serve Water Dispense, Single Semi-Automatic, BFDSA-1, Complete With Ozone and UV Package. Self-Serve Water Center (Display stands and bottles sold separately)
Single Water Dispenser
• 3-button operation for ease of use
• Automatic 5 gallon fill
• Ultraviolet water sterilizer with failure alarm
to ensure 100% safe water
• Carbon block post-filter for improved taste
• Drop down bottle shelf for easy filling
• Lockable storage in dispenser base
• Waste water discharge system (optional)
• Stainless steel construction to last a lifetime
• Easy to clean
• Projects image of quality and purity
Built-In Bottle Sanitizer
• Uses no costly chemicals, no solutions to mix
• Leaves no residual taste or odor
• 3,125 times faster and more effective than
chlorine
• Includes air dryer to extend ozonator life and
reduce maintenance costs
Self-Serve Water Dispense, Single Semi-Automatic, BFDSA-1, Complete With Ozone and UV Package. Self-Serve Water Center (Display stands and bottles sold separately)
Single Water Dispenser
• 3-button operation for ease of use
• Automatic 5 gallon fill
• Ultraviolet water sterilizer with failure alarm
to ensure 100% safe water
• Carbon block post-filter for improved taste
• Drop down bottle shelf for easy filling
• Lockable storage in dispenser base
• Waste water discharge system (optional)
• Stainless steel construction to last a lifetime
• Easy to clean
• Projects image of quality and purity
Built-In Bottle Sanitizer
• Uses no costly chemicals, no solutions to mix
• Leaves no residual taste or odor
• 3,125 times faster and more effective than
chlorine
• Includes air dryer to extend ozonator life and
reduce maintenance costs
Warranty
- The warranty for your water dispenser covers defects to all components and electrical parts for one (1) year to the original purchaser.
- Stainless Steel parts are warranted for one (1) year. With this warranty it is the responsibility of the water dispenser owner to properly maintain the water dispenser. If there is any misuse or abuse the one (1) year warranty will be void.
- PN does not warrant any transportation charges incurred to complete the repair. The water dispenser owner is responsible for all shipping charges to and from the service centre.
- Warranty is void if the water dispenser is found to have been consumer damaged or misused, caused by acts of God, unauthorized alteration, repair or vandalism.
Please log in to add a review.
---