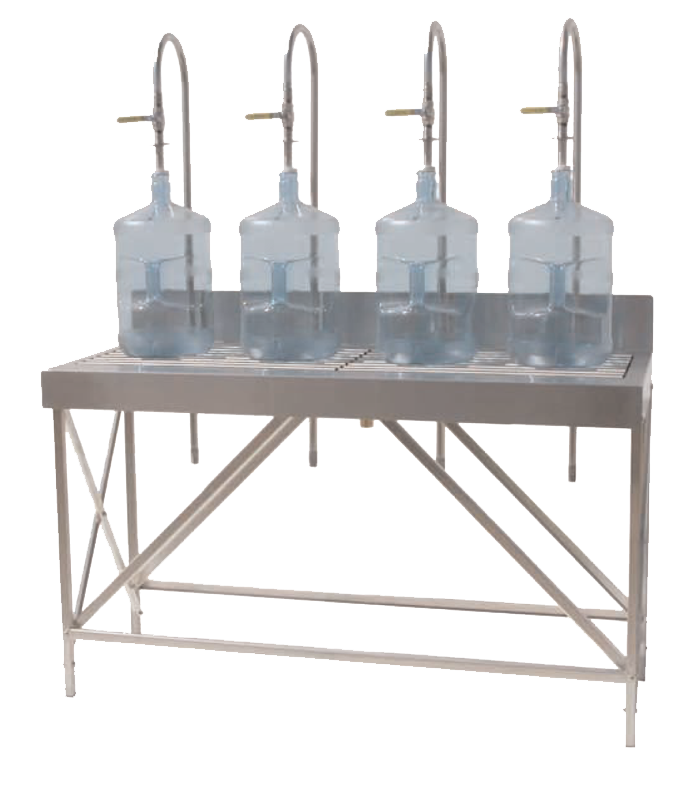 BF-4 Bottle Filler
---
This product is fabricated upon ordering. Customization possible. Estimated lead time is approximately 2-3 weeks.
The BF-4 Bottle Filler is designed to meet the needs of a small bottle filling operation.This simple and easy to use equipment is a market entry affordable product with a quality that is
sure to provide years of trouble-free service.
Attractively positioned in a water store, the BF-4 BottleFiller is an ideal market entry bottled water product. Manufactured from high-grade #304 surgical stainless steel with a polished finish, this simple and easy-to-use equipment was designed by our engineers, who know what is needed for a small bottle filling business.
Four separate fill stations allow for a growing water business. The BF-4 adjustable gooseneck filling system accommodates various bottle sizes and can be easily moved to another location if necessary. With a limited amount of moving parts, you can be guaranteed fewer breakdowns.
Smart maintenance features include a 6" back splash guard that prevents water from spilling over and a removable tubular drip grate for cleaning and sanitizing the bottom tray of the filler. Flexible 3/4 " tubing is attached to the end ofthe goose neck filler which is connected to a pure water supply. A ball valve and fill guard protector round out the many features of the BF-4 Bottle Filler.
Ordering Information: This product can only be ordered over the phone because it must ship via freight. Call us at +1 (801) 281-4911.
| | |
| --- | --- |
| 4 Fill Stations | 1/2 - 5 gallon bottles |
| Easy to Operate | Manual ball valve filling |
| Back Splash Guard | Prevents water spillage |
| Easy Adjustable Fill Spout | Fill guard protector |
| Removable Tubular Drip Grate | Easy to clean |
| High Grade Stainless Steel | Sanitary, clean, long lasting |
| Free Standing | Flexible positioning of product |
Height: 36 " (91.44 cm)
Length: 60 1/8 " (152.72 cm)
Width: 24 1/8 " (61.28 cm)
Splash Guard: 6 " (15.24 cm)
Weight: 105 lbs (47.6 kg)
Please log in to add a review.
---