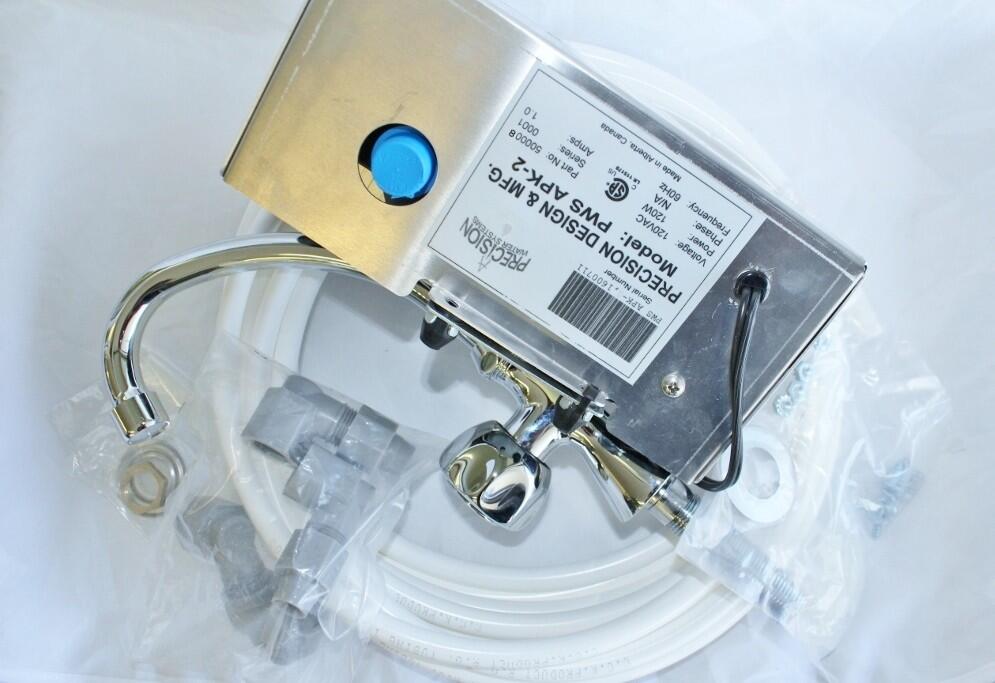 PWS APK-2, 120V-220V, pump kit. Fits PWS 8-5, LM G2-5, & Polar Bear 26CT
---
PWS APK-2, 120V or 220V, pump kit. Includes: 1/2" tubing (25'), wet connection fittings, mounting clips, pump, ss cover, chrome faucet, 1/2"NPT shank, whole size 14"h x 6"w / counter height 10.75"h x 5.5" off center. Fits PWS 8-5, LM G2-5, & Polar Bear 26CT. 16x11x6, 7.8lbs.
Item can be purchased with or without the chrome faucet (select when adding to cart).
Items commonly purchased together with this item:
Part# 500006 - PWS AED-1, 120v automatic electric drain. Fits models PWS 8-5, PWS 8-8, PWS 12-12 & PWS 12-20. Can use on LM with 1" coupler & 1"x3/4" bushing. Polar Bear units require retro kit #400115.
Part# CNGAC510 - Carbon, coconut shell, 510g / 18oz / 1.2lbs, 2 yr supply (bi-monthly /100 gal advised replacement).
Part# ReNEW48 - Tank ReNEW distiller cleaner 3 lbs (48 oz / 1390 g) bottle w/ instructions (67 tbs).
Flow rate 1.4 gpm at pump.
65 psi pump switch.
Flow rate 1.4 gpm at pump.
65 psi pump switch.
Please log in to add a review.
---