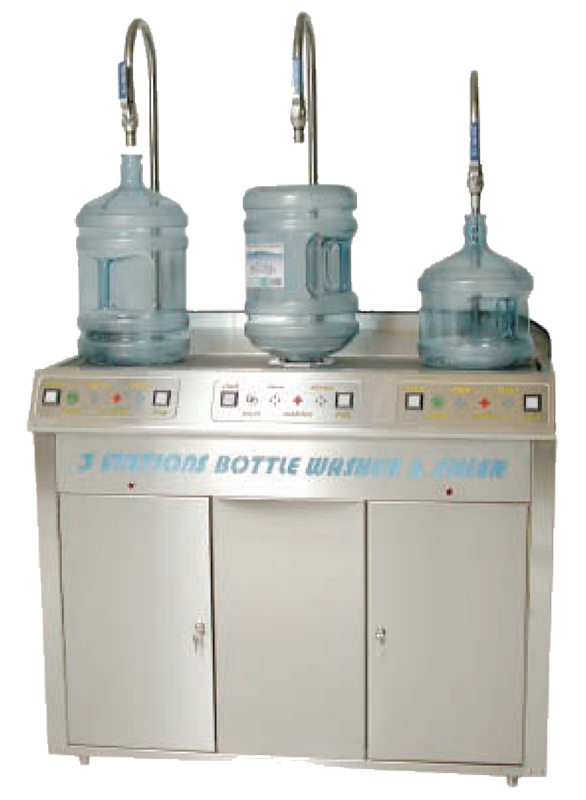 BWF-3 Bottle Washer with Filler Option
---
This product is fabricated upon ordering. Customization possible. Estimated lead time is approximately 2-3 weeks.
The BWF-3 Bottle Washer with Filler Option is one of the finest on the market. The product allows a consumer to easily clean his or her own bottles in a safe and convenient manner. We believe the BWF-3 will set new standards for cleaning various size containers in the bottled water industry. Add on to your existing water store or consider this product for you new self serve water business.
Attractively positioned in a water store, The BWF-3 allows a bottled water customer to safely and hygienically clean their own bulk bottles through a four step automated wash, rinse, sanitize and final rinse cleaning process. Following sterilization, the bottle can be easily positioned for pure water filling and taken home for enjoyment. The Bottle Washer includes 3 separate wash stations to serve clients. Backlit buttons clearly indicate progress of each cycle. Equipment used for the wash process is designed for user safety, optimum performance, and maximum component life. Pumps are equipped with thermal protectors and are pressure controlled, self-priming, and capable of being run dry. This pump is also capable in keeping the necessary pressure constant on all three stations while in maximum use and meets NSF requirements for Beverage and Drinking water delivery.
The mixing of chemicals through an internal hydroproportioning and dispensing system assures equal combination of chemicals and water in the required sterilization steps. The Bottle Washer is engineered to efficiently use both water and chemicals in its desired portion for economical cleaning costs. The Bottle Washer is constructed of high-grade stainless steel. Front panel access provides easy maintenance to internal electronics. Quickly switch out the 5 gallon chemical containers in lower portion of the bottle washer in minutes. The optional gooseneck filling system allows this equipment to be turned into a product used in the self serve water business or to add to an existing bottled water store in order to package water for delivery.
Ordering Information: This product can only be ordered over the phone because it must ship via freight. Call us at +1 (801) 281-4911.
| | |
| --- | --- |
| 4 Stage Cleaning | Sterilizes 3 & 5 gallon long neck bottles |
| Illuminated Buttons | Indicated progress of each cycle |
| Automatic Cycle | 30 second complete cycle |
| 3 Separate Stations | Consumers can clean their own bottles |
| High Grade Stainless Steel | Sanitary, clean, long lasting |
| Effective Mixing System | Equal and economical combinations |
Height: 37 5/8 " (95.57 cm)
Length: 46 1/4 " (117.48 cm)
Width: 23 " (58.42 cm)
Weight: 175 lbs (79.38 kg)
Please log in to add a review.
---